Price Is Right
Priced correctly and marketed aggressively, most homes will get an offer quickly. How you and your agent handle negotiations can affect the outcome of your home sale. Your JimMaloof/REALTOR® agent agent will conduct the negotiations with professionalism, attention to detail and a loyal representation of your best interests.
Confidentiality
It is vital to the integrity of the deal and to our reputation as professionals.
Communication
Your JimMaloof/REALTOR® agent will involve you in all aspects of the negotiation and communicate your options clearly and candidly.
Responsiveness
Time is of the essence! We will expedite the presentation of offers and counteroffers in a timely fashion.
Resourcefulness
Real estate sales transactions are multi-faceted transactions. We look at all angles to find a strategy and solutions that help you accomplish your objectives.
Strength
We will do everything in our power to help you negotiate from a position of strength. Our goal is to achieve an outcome that meets or exceeds your expectations.
Pricing Your Home
The most important question you will likely have is "What is my home worth?" A JimMaloof/REALTOR® Agent can help you answer that.
The knowledge, experience and research we apply to pricing our clients' homes produce shorter market times and a higher listing-to-sale price ratio.
The most effective way to get the highest selling price for your home is to price it right from day one.
To arrive at the best list price, we complete a Comparative Market Analysis (CMA) which compares your home to other similar properties currently listed and those recently sold. We use home location, local supply and demand, days on the market and property features to arrive at what we believe is a fair market value for your home.
The surest way to see the selling price decline is to set a list price that is too high and then take reductions to chase the market.
Accurate list price is important because the greatest amount of showings occur in the first few weeks of market time.
Remember, time is money and it is best to work with your agent to advise you on today's market price.
The Risk of Overpricing
Could cause it to be used as a "target" to sell other properties
Could lead to loan rejection for a hopeful purchaser due to appraisal
Could lessen your ability to purchase another property
Causes your home to become "shop-worn"
Eliminates potentially good offers
Reduces the number of showings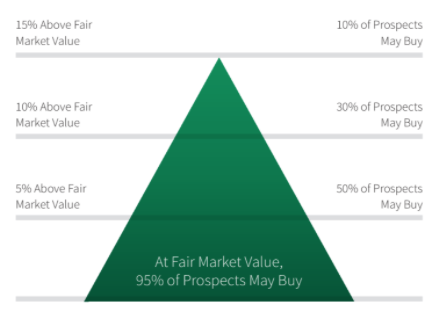 Preparing Your Home
Ensuring your home is in the best showing condition will set it apart from the competition and could be the difference between a timely and productive sale or one that drags on.
Declutter
Go through your home room by room and ask yourself what you can throw away and what you can box up and put in storage. Pay extra attention to areas like closets, bookcases, shelves and kitchen and bathroom counters.
Organize
Lack of storage can be a deal breaker. Go through closets and pantries. Remove items from closet floors, clean out bedroom closets so that hanging clothes are aligned and have ample space. Reorganize and clean out your kitchen cabinets and line up dishes and glassware. Make sure bathroom and kitchen drawers are neatly organized.
Clean
Give your home a deep clean from top to bottom, including windows, upholstery and carpet, refrigerator and stove. Yes, buyers do open these.
Paint
A fresh coat of paint is the least expensive, most effective way to enhance the appearance of your home. Neutral colors are best.
Brighten Your Home
Light gives the impression of space – ensure every room in your home has ample light any time of the day. Raise blinds and turn on all lights. Add floor and table lamps to brighten darker rooms or corners.
Maintain the Exterior
Maintain your lawn and landscaping. Ensure your front door is in good condition. In the winter, shovel and de-ice walkways. Make decks, patios and porches inviting by using potted plants and flowers.
Make Repairs
Consult your agent prior to taking on large improvement projects. Make easy repairs such as touching-up spackling and painting, replacing cracked windows or torn screens, fixing leaky faucets and changing burned out light bulbs.
Remove Personal Property
If you do not plan on including personal property such as window treatments or light fixtures as a part of the sale, remove them prior to your first showing and replace with attractive alternatives.
Remove Pets
Keep pets out of the home for all showings. Conceal food bowls and litter boxes. If pet odor is present, have the home professionally cleaned.
Disclose Everything
By law sellers must disclose existing structural and mechanical problems, flooding, the presence of lead paint, information on radon hazards and other known defects to potential buyers.
Staging Your Home
Home Staging – The art of merchandising your home to improve marketability.
Your home must show like a model in order to stand out in today's competitive market. Staging can be as simple as rearranging a few pieces of furniture to hiring a professional to furnish an empty home. Your JimMaloof/REALTOR® agent can give you staging suggestions or assist you in locating a professional stager.

Tips for Home Staging
Use neutral colors and décor to help your home appeal to the largest number of potential buyers. Add color through accessories such as pillows, vases and oriental rugs.
Arrange furniture in small groupings that demonstrate a room's functionality, and do not overcrowd a room with furniture. Place pieces in a way that dictates logical traffic flow.
Use light, airy window treatments, like simple sheers on a curtain rod. Hang window treatments so they cover the least amount of glass.
Higher wattage light bulbs can brighten up dark areas, while dimmers are a low-cost way to add a desirable feature and allow you to increase or decrease light levels in different rooms.
Camouflage outdated furniture or worn upholstery with slip covers, and replace worn bedspreads and throw rugs.
Personal photographs and mementos add warmth and character to a home, but use them in moderation so the buyer will focus on the home, not it's owners.
Keep kitchen counters clean and clear of all items, and remove all magnets and notes from the front of the refrigerator. If your kitchen needs an update, paint cupboards with a neutral color and replace knobs on cabinets.
Remove all personal items from the bathroom counter. Stock fresh towels and get a new shower curtain and rug for the floor.
Use interesting accessories to draw the eye to desirable features like built-in shelving, bookcases or fireplace mantels.
Display fresh flowers.
If you have collectibles, display them in neat, uncluttered groupings.
Remember outdoor spaces like your back yard, patio or balcony. Add furniture, plants or potted flowers with seasonal settings.